Track my order
Track your order
Tracking is not working 100% with Standard shipping
For free standard shipping we use Asendia or Omniva to handle the first touch of your order. Both of these companies are mail companies than then work in an advanced spider net with local mail companies.
Tracking Asendia: https://trackandtrace.asendia.com/
Tracking Omniva: https://www.omniva.ee/eng
Tracking experience with Asendia and Omniva is not a 5 🌟experience (but it is a free shipping alternative for all customers world wide).
You can always use the same tracking number for your local mail companies.
Links to local mail and post companies to last mile tracking
More countries to be found here: http://www.upu.int/en/resources/postcodes/looking-up-a-postcode/list-of-sites-by-country.html#i.
Learn about customs and duties
here
.
What's the time of delivery?
Our time of delivery is usually between 2-7 business days, but depending on your location our delivery time can extend to 5-19 business days. We also sustain an express shipping solution where delivery is 2 business days world wide. 
You can trace your parcel by accessing your account, or by contacting our customer support team through the chat function on our site. Keep in mind it may take up to 48 hours to trace a parcel after it has been dispatched from our warehouse.
If your order includes an item that is a preorder item, your entire order will ship with the preorder item when that item is ready. 
If your order includes an item that is a personalised item, your entire order will be delayed 1-3 business days. 
What's the minimum order value?
We don't have a minimum order value. No delivery charge will be applied if €30 or above. If your order value is less than that it's fine but we have to cover for an administration fee and external costs which is €4.
What is the shipping cost in my local currency?
Check the consent banner at login, or via this page: https://agood.com/pages/delivery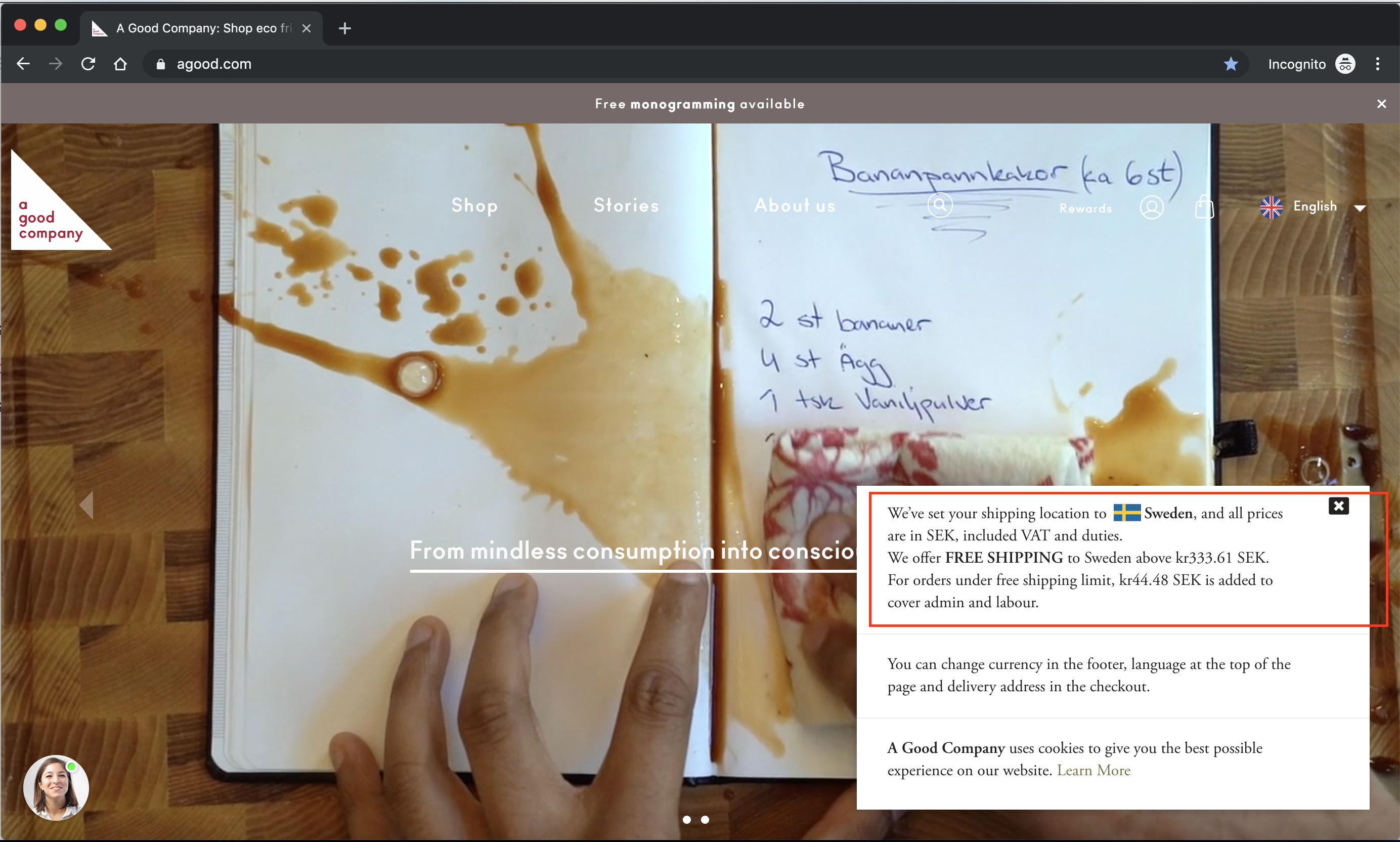 Do you offer express delivery?
We offer express delivery for a €5 charge to most locations worldwide.
You may choose express delivery in the final step in completing the order.
If you choose express delivery with DHL Express, your order will be with you within 24-28 hours after the parcel has been dispatched from our warehouse.
Over €50 we cover that cost - win-win, right? 😊
Are all your products in stock?
In normal circumstances, all the products displayed on our site are in stock, except for preorder items. Should we experience unusually large orders in short duration for certain products, our systems may be temporarily out of sync. If that is ever the case we will contact you so that you can change your order or cancel the order with no charge.
---
---